I have never met Cathleen Ozmore in person, I'm in the UK, she is in The USA and our backgrounds are very different. However we both stumbled upon fluid art around the same time and became friends through YouTube, discovering that we both have a great appreciation for Courtney Hoelscher and both became instantly hooked on the 'swipe' technique.
It's my intention over the coming months to interview those artists who have influenced me, delve a little deeper than what you see on screen and find out what makes them tick. Cathleen very kindly agreed, in turn I hope you will be influenced as I was and can identify with her journey through fluid art.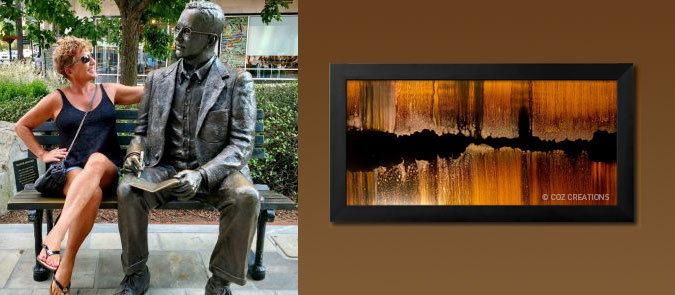 How did you get into fluid art and did you paint before?
I retired from my Landscaping company of 30 years in 2019. I worked very long days. I had a difficult time going from a 60 hour work weeks to having not much to do. I needed some way to express my creative juices. I found a video on YouTube from Courtney Hoelscher. Watched it then watched it again. I was overjoyed with the possibilities. "I can do this" I told myself. I have always been an admirer of Abstract Art. So I started to practice and play and experiment. Each time learning and growing. This was in December of 2019. So many possibilities, I was hooked!
Who and what are your influences?
What: my need for a way to express all those creative juices I had inside me  Who: Courtney Hoelscher, Elyse Fournier, most abstract impressionist.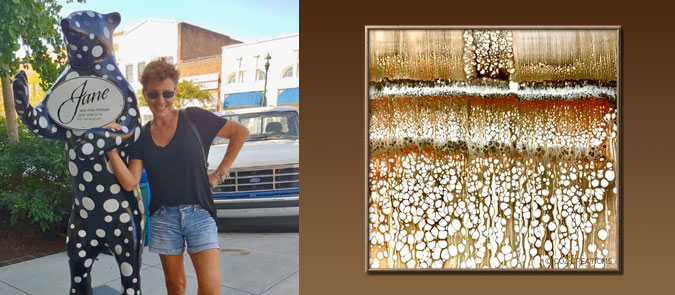 Whats integral to you as an artist?
Making beautiful art my friend. Watching those paints come to life in front of my eyes. The endless possibilities. The first pour I ever did was Christmas 2018. I wanted to make my own Christmas ornaments. I remember pouring the paint on the glass ball and being mesmerised, watching it move and evolve as I twisted that ornament around. I thought " Oh my" what if I did this on a canvas. That was before I even knew Acrylic Pouring was a thing.
How would you answer those critics that say 'Fluid Art isn't real Art' or 'there isn't a great deal of skill needed'?
Well this is a easy but hard question for me. Something that happened last weekend. I stopped into a gallery on a lovely little town near my home. A friend suggested I display my art there. The gallery supports and promotes local artists so I introduced myself to the women behind the counter. I asked her questions about how I go about displaying my art in the lovely gallery. I then showed her several photos of my work, she was so excited and was filled with praise! Then she asked if I was doing brush work or palette knife with my acrylic paints. I smiled and said "sometimes I use a palette knife but mostly it's acrylic pouring". She stepped back and looked at me with a surprised look, the look like "I'm not sure that's real art"! I was then asked to submit my photos for approval. Ten minutes before, she was ready to clear a large space on the wall for my paintings. Yes I am sensitive about it. I am truly not sure why. I have a good friend who I recently moved close to me here in my Happy Place, we met him and his lovely lady for dinner a few weeks ago, she is a talented landscape artist and showed me several photos of her paintings. I did not show her any of mine, on the ride home my Rick asked me why. I was not able to answer. Maybe because it came so easy to me, maybe because I wasn't schooled as a fine artist. Maybe it's because Acrylic Pouring has been criticised and considered "Not Real Art" I just don't know the answer yet.
Most artists (including me) are sensitive souls, If you do get any criticism – how do you deal with it?
If it's constructive criticism, I always thank them for it. If it's a nasty comments, I don't respond. I get a few thumbs down on my YouTube channel. My only wish is that they include a comment with their thumbs down. Tell me what you don't like, was it my colour choice, was it my composition? I have no room in my life for the "nasty" they can just move on.
In the world of 'fluid art' what puts a smile on your face?
Anything new and different. I love experimenting with my paints. I get so excited when a new idea comes into my head. I search daily for the next thing. I am grateful that I have the time to put into this art of mine. Painting puts a smile on my face. Even when it doesn't work out. I probably learn more from my mistakes.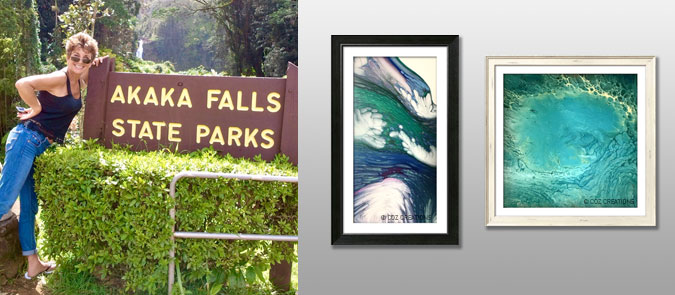 Do you ever have bad painting days?
Oh yes. The stars are not always aligned. I'm okay with that. Like I said earlier, I learn more from my mistakes. You just need to take that lesson and put it in your pocket and move on.
What other creative interests and goals do you have?
I was a sculptor and potter in my younger day. When the weather turns cold here I often go to a lovely studio down the road. They allow me to rent 'play time' on their pottery wheels. I also am passionate about interior design. During my off season from my landscaping company (we were closed during the winter months) I would stage homes and help friends with there interior design needs. I am also very much into my gardens. I just love getting my hands dirty. My goal in life is very simple. Live that life to the fullest. I am truly in my Happy Place.
Obviously anyone can have a go at fluid art and the numbers are growing, but in your opinion what makes a fluid artist stand out from the rest?
Experimenting, moving forward, making it their own. There are so many talented fluid artist out there. I find though, that many of them find the technique that there good at and stay there. Doing the same technique over and over. The thing that I like best about this medium is the possibilities are endless. Change it up, experiment and play, create something new and exciting.
You have a huge social media following thats grown really quickly – Do you feel this as a responsibility and how do you manage the attention?
It was like a whirlwind for me. So grateful for my 'Painting Peeps' and yes it can be overwhelming at times. I'm adamant about several things. If someone takes the time to comment on my art. I take the time to always thank them. If someone needs help or have questions. I find the time to answer them all. I will do all I can to help them along with their painting journey. If it wasn't for peeps like my "teach" Courtney Hoelscher and all the artists that shared their technique and teaching videos, I would have probably gotten overwhelmed with frustrations and threw my paints and canvases out the door. I do my best to be there for them.
Click here to view Cathleen's YouTube Channel