We all learn and get inspired from other artists. Gail Burstyn from 'Life in Splatters' is one of those artists who inspires us mere mortals by breaking new ground in fluid art. When a swipe doesn't stop at a 'swipe' and becomes a 'shmear', a flip cup becomes a thing of real beauty and a flip and drag springs into a mythical creature before your very eyes, you know you are looking at a ground breaking fluid artist.
Funny story (and the absolute truth), whilst taking some banana bread out of the oven, I thought to myself 'I would love to do a collaboration with Gail' (but how do I muster up the courage to contact her!!). Well at that precise moment my phone went, and yes it was Gail asking ME to do a collaboration! Fear immediately set in followed by a few sleepless nights (as with all collaborations I've done) but I knew that I was about to learn a great deal… why wouldn't I, even if what I produced was rubbish!
I also persuaded her to answer a few questions (well quite a lot actually), so grab a coffee and gain some insight into someone who inspires us all to stretch that little bit further into finding our own expressiveness in fluid art.
How and when did you burst into fluid art and what was the very first painting that you did?
Late fall 2018 I had a bad spill in the backyard while gardening and broke my tibial Plateau quite badly. Consequently I spent six months in a wheelchair unable to do a great deal of anything. Browsing YouTube in February 2019. I came across a video of acrylic pouring. It was Carol's Art Room, 'How to funnel pour with acrylic paint'.
I was mesmerised.. Then I discovered Courtney Hoeschler,  then Annemarie Ridderhoff, Karen Durishin, Gina DeLuca, Ann Osborne, Christine Welch, Heather Mader… so many great teachers.
I was hooked. I watched hundreds and hundreds of videos, making notes, studying. I started collecting materials but still too intimidated by the process. I saw that there was an introductory course nearby and went and did my first 2 pours. They were dirty cup pours, the paints mixed by the instructor, that was it.. the fear was gone.. and I set up my pouring space.
I remember my first few weeks of painting, oh how I struggled with consistency. Nothing was working, muddy… nothing like I was seeing on YT. I nearly quit many times, so frustrated.
Then, one day it just worked. I had the magic consistency. I did a flip cup and swiped over it and it was beautiful… to me at least.
I see that nature and landscapes play a large part in your photography, how does this influence your paintings?
I find I am still drawn to the patterns and textures that I would seek out in my photographs of landscapes, plants and abstracts. I often see landscapes, flowers, birds and I find myself using some of the rules of composition, like the Fibonacci spirals that are part of the architecture of nature, my colour choices are also inspired by the beauty we are surrounded by.

You have a distinct style, which I love… how important is it for a fluid artist to find their own identity?
I do believe that it is important to create work that is individual to you, that stands out from others… as uniquely yours. Art is supposed to be original, the individual expression of the artist.
When I started, I needed to learn from others the basic mixing consistencies and techniques. From practising basics like ring pour, dirty poor and simple swipe techniques, I began to experiment more… and began to naturally produce work that is uniquely my own. The more I practiced, the more I learned to have some control over the process. I am thrilled when someone comments: "they knew it was mine before they saw my name". Your style is a reflection of your design tastes in general.
I have noticed that after I have experimented and create something I love, can I see the resemblance to artists work that I am drawn to. For instance, I have always been drawn to the works of William Morris and his rich tapestries and wallpaper designs. Some of my works that I refer to as tapestry, remind me of his designs.Some of my paintings remind me of cave art and sometimes even my photography background influences composition and colour choices..
I believe it is important to find your own artistic voice.
Your work reminds me of The Art Nouveau period. One of my favourite artists is Alphonse Mucha, who are your favourite artists and how do they influence you?
There are so many artists I admire and whether or not they Inspire my work that's a tough question. As you know we have very little control over what the paint does but I have managed to be able to work with the paint in such a way to obtain results that resemble elements of nature, Flowers, plants birds… creatures and landscapes.
I am inspired by The Works of William Morris textile and tapestry artist, whose paintings and designs were inspired by the beauty of nature. I am also very fond of the work of Gustav Klimt and of course Vincent van Gogh.  I occasionally see my colour choices reflecting some of these artists works.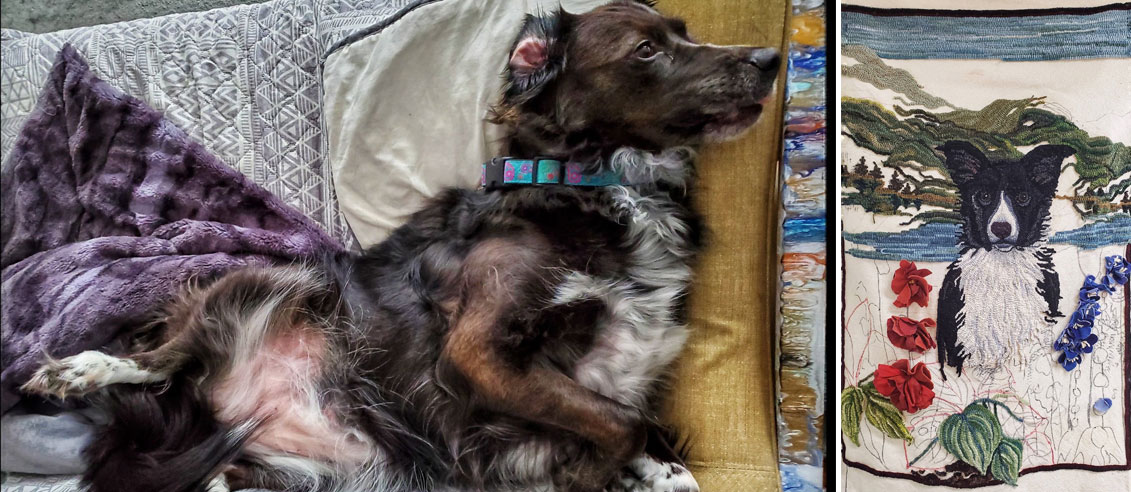 Do you do any other form of painting? Still life or portraits?
I have never drawn or painted before, and when I tried, I found I had absolutely no talent for it. Imagine my surprise when playing with fluid paint that I can create beautiful flowers, birds and tapestry like pieces. I knit and crochet, created beadwork, cross stitch, needlepoint, traditional rug hooking, designing pieces and dying my own wool, photography, and now painting. It seems that somehow, the paint is doing all the work, I only manipulate it… a happy partnership.
Artists today seem to have to be salesmen, social media wizards and film editors for YouTube. How do you feel about wearing so many hats and how much time do you spend painting?

Well, I had no plans to make You Tube tutorials until a few months ago. I was encouraged by many folks who had seen my work in the Facebook fluid art groups, to please do a video of my techniques. Up to that point I was making short videos of finished pieces, primarily so that I could look more closely at the details created by the magic of paint densities. I find it very helpful to look at the piece on my iPad or on my TV, to see where I might make some changes, or if I am indeed happy with the final outcome.
I have recently developed some issues with my eyesight and I am having difficulty even being able to see if the video itself is in focus, unless it's on a large screen.  Fine details are important to me in painting, as it was with my photography.
I paint every day, at least one piece. It is what brings me joy. I have been working on improving my video making skills and editing does pose an interesting artistic challenge.  I really do need to put more energy into marketing my work. I have been fortunate to have sold about 40 pieces. I had some opportunities for shows and sales events planned, before the pandemic turned everything upside down.
I expect I will be planning a sale or auction in the very near future.  I am way better at making the art, than I am at marketing and keeping up with social media!
Many fluid artists can get a lot of criticism on Social Media, how do you deal with negativity and 'thumbs down', (if you get any that is!).
Oh.. yes.. The thumbs down.. and critical remarks. There were moments when I would feel gutted by a critical, or unpleasant remark.  It is not easy putting ourselves and our artwork up to such a huge audience. Art is so very subjective. We all have individual tastes in art.. food.. music.. almost every thing that we bring into our lives.. is finely curated to our preferences.
So.. you are not going to please every person who sees your work, or watches a video. I usually get a thumbs down and occasionally a remark that is hurtful. I have finally learned to just delete the comment.  I wish to be surrounded by beautiful things and choose to not engage in negativity.
What came first, photography or painting?
Photography was my first real love. I began in the early 70's with my first camera.  I would develop my own black and white film and print my work in a darkroom. It was wonderful having full artistic control over producing images. I have been fortunate enough to show and sell in art galleries, studio tours and art fairs over the past 20 years, still producing my own photographic prints and maintaining control over the images. At the age of 66 I began this painting journey and it has been so wonderful to have another creative outlet. The painting obsession has come along at the best possible time as I am not able to clearly see through a viewfinder to take photographs… other than some indoor floral macro.
What are your other interests? (I can see you love cooking, like me!)
I have always been interested in the creative process.  I used to string beads for chokers in the early 70's. Knitting, crocheting, cross stitch and needlepoint. I also have been involved in the process of designing, dyeing wool and making traditional hooked rugs. Yes.. I love cooking and was a personal chef for a number of years. Photography became my love 25 years ago, as well as making semi precious stone and silver jewellery. I have exhibited in several galleries and studio tours. Then I found fluid art and it has become a full time passion, along with gardening.
What have been your biggest mistakes in the fluid art world and how have you learnt from them?
One of the most valuable lessons that you will learn as a fluid artist is to be certain that you're leaving your painting in on a very safe,  level surface. It is a lesson that only takes one or maybe two events to convince you that you need to be cautious and you need to be checking your piece for the first few hours after it is completed.  A beautiful painting can be stretched and contorted by a slipped cup under a corner, or a misplaced pallet knife under the tray.
The other lesson is to never give up on a painting. It took me quite a while to become confident enough to scrape a part of a painting or to add more paint and swipe over another section if something about the painting doesn't seem right. It could be a colour, a shape or an area that seems to create a distraction from the flow of the painting, or an area needs some contrast to become more related to the rest of the composition.
I find that if I take a video of the painting and then walk away and watch the video, I am able to see more clearly what might need adjusting. Then it takes the bravery to risk messing it up… but know.. you are never done until you love it! "Beauty lies on the other side of fear"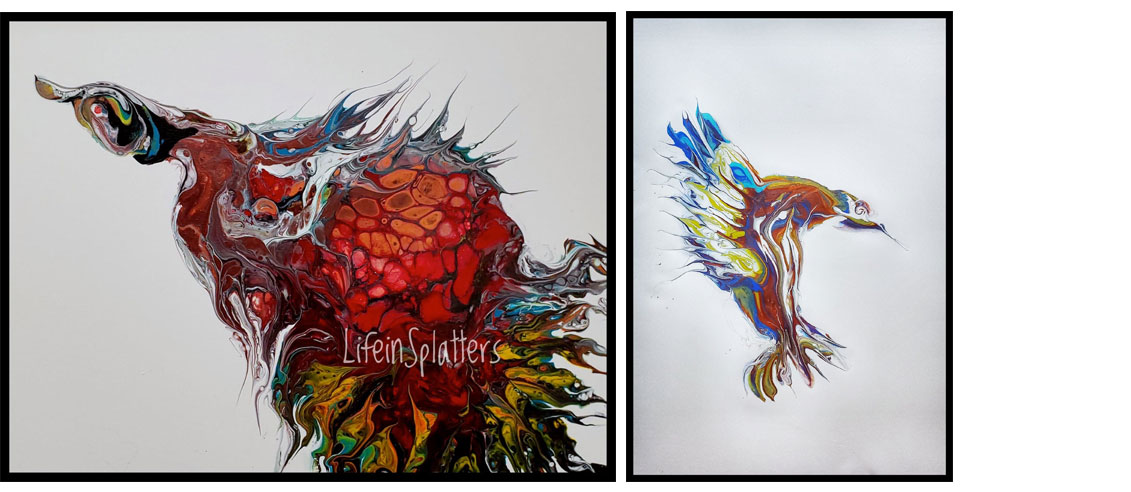 I love how your paintings 'come to life' before your very eyes… Your 'mythical creatures' have little characters of their own. How did these little creatures come about and do you have an idea in your head before you start?
As all fluid artists know, it is nearly impossible to control what reactions happen when the different densities of paint are put together in a painting, that is the very nature of fluid art. Until we understand consistency, colour planning, how much paint, how it is layered and how to apply it on the substrate, we have little control over the outcome.
I have learned how to create these Fantastical Creatures by trial and error, with a great deal of persistence, patience and practice. They are not in my mind until the paints begin to flow together.. There are times that I have no idea how they appear but i am glad that they magically come to me.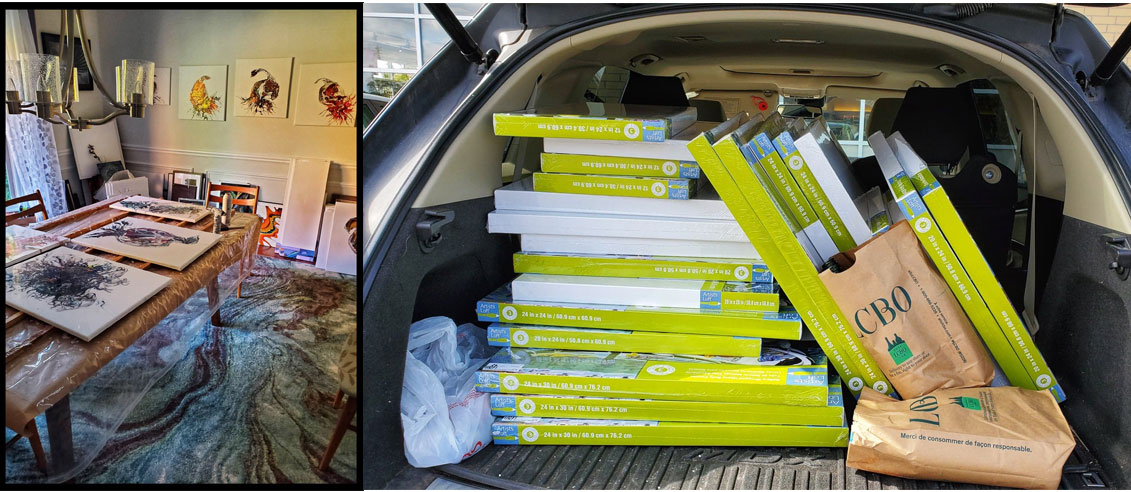 What drives you to paint?
I feel it is really important for me to have a creative outlet, or many different ones. Recently, with the change in my eyesight i have found photography to be very difficult. I began this journey a year ago this month and I am constantly amazed at how the pigments play together, the patterns, shapes, textures that are created by what seems to be magic, before my very eyes! Every painting exposes another lesson or idea and I cannot wait to try in my next painting. I have to limit myself to TRY to do only one painting a day. It brings me great joy to make beautiful things.
If you were to pass on any advice to anyone who wants to get into fluid art what would it be?
Take the time to research all the valuable information that is out there, unlimited resources on You Tube, regarding the materials required, formulas and the different techniques.  These teachers have much wisdom to share.

Gather some supplies. Begin small, start working on some basic skills. Don't get discouraged if you struggle with getting it to work. We all began somewhere.

Be prepared to be amazed at what beautiful things you can create..

Know that art is very subjective. What one person loves, someone else will not. What matters is how you feel about it.

Find your own artistic voice. Learn a technique and make it uniquely your own.



To learn and be inspired to create more than just a flip cup and to NEVER give up on a painting Follow Gail on facebook and on Youtube